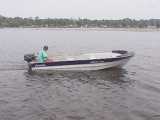 Basic- Fibreglass Runabout : This is the 15 foot flat bottomed fibreglass boat with a 15 hp boat and motor package. It is spacious and sturdy. The long transoms virtually eliminates the annoying 'wet-hinnie' from waves caused by backwash splashing over the transom.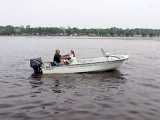 Fishing- Bass Boat : This 16' boat has a 40hp motor and is ideal for the Angler. It will get you to your favorite fishing hole fast. It has a live well and pedestal seats.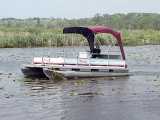 Sightseeing- Pontoon Boat : Boat with plenty of room to move around. This boat is powered by a 40 hp "four stroke motor". The boat is perfect for family pleasure especially if a steady boat is necessary, and at the same time it is perfect for a small group of people who want to fish together



Fun in the Sun- Ski Boat: This 16ft Checkmate with 140 hp outboard is perfect for those that love to ski, wakeboard and tube or just the thrill of flying across the lake with the wind in your hair.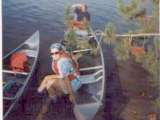 Canoes: liesurely explore the quiet bays and marshes in one of our fibreglass canoes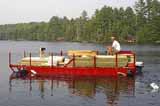 24ft Steel Barge - This barge is a heavy duty boat designed to transport equipment, materials and supplies to water access properties and cottages with steep shorelines. This boat comes with an operator and makes cottage renovations and/or cleanup a breeze. Please call and talk to Jeff for more details.










thank you for considering
EELS LAKE COTTAGES AND MARINA as your vacation destination